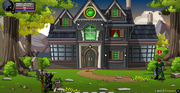 MEMBER ONLY
Level 12 Cysero's Clubhouse for Member's Only!
Monsters:
Riddlelords Golem x1
Random Spawns (Room 9)
Box Guardian x1
Dark Elemental x1
Fisherman Soldier x1
Gargoyle x1
Tainted Elemental x1
NPC's:
Cysero
Riddlelord's Statue
Unkown Peasant

Rare
Shops: None
Map Name:
Clubhouse (New)
Clubhouse 2 (Old)
Room Limit:
Access Points:
Map of Lore
/join Clubhouse (New)
/join Clubhouse 2 (Old)
Button in News
Note:
Music plays in the disco room of clubhouse2.
The Secret Room (Room 9) can be found by clicking the lamp to the left of the portal.
To enter in Room 4 (Boss) you need solve the riddle in Screen 3.