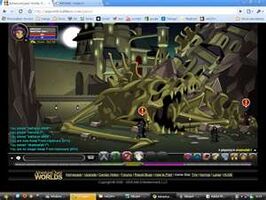 Evil Capital

The stronghold of the Shadowscythe Empire. Ruled by Gravelyn, daughter of the infamous DoomKnight Sepulchure.
Monsters: None
NPCs:
Cleric Casca'de
Dage The Evil
Dusk
Skeleton
Shadow Fall Skeleton Shop Keeper
Shops:
AC Doomnight Shop
Undead Warrior Shop
Undead Legion Shop
Doomnight Shop
Evil Shop
Evil Reputation Shop
Evil Contract Shop
Undead Legion Merge Shop
Quests:
Dage The Evils Quests
Gravelyn's Quests
Gravelyn's Evil Quests
Map Name: Shadowfall
Room Limit: 6
Access Points:
Book of Lore
Story Button in Battleon
/join Shadowfall
Ad blocker interference detected!
Wikia is a free-to-use site that makes money from advertising. We have a modified experience for viewers using ad blockers

Wikia is not accessible if you've made further modifications. Remove the custom ad blocker rule(s) and the page will load as expected.