This is the story of AQWorlds
Chapter 1
Edit
Swordhaven under fire
Edit
Swordhaven
was invaded, later Artix tries to free swordhaven. King Alteon sends his army out but only makes stuff worse because the army turns to undead.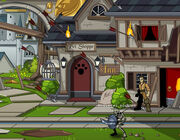 Your hero arrives to save the day and completes Artix's quests. Drakath establashes the 3rd side aka.CHAOS and kills Sepulchere.
Chapter 2
Edit
Choas crypt
Edit
Your hero is sent to get sepulchere's armor and free the five knights from chaos.
Forest exploring
Edit
You go into a forest to research the effects on chaos wolves. Your hero captures 7 chaos wolves and finds out wolves get stronger when infected by chaos.
Drakath's destruction
Edit
Drakath breaks out of the castle and blasts the evil kingdom which is later reanamed Shadowfall. Your hero/villian arrives to help.
Repair Shadowfall!
Edit
Gravelyn gives your villian a task to get money fron the royal task collecter's bank. You retrive 1,000,000,000,000 (1 trillon) gold. Gravelyn repairs Shadowfall with the money.
Chiral Valley
Edit
1st lord of chaos
Edit
Eschercion invades
Mobius
. Otto and Anna find the first piece of the runix cube.
Your hero arrives
Edit
Your hero/villian arrives to save the citizens of Mobius. Anna and Otto give you the first piece of the runix cube.
Ad blocker interference detected!
Wikia is a free-to-use site that makes money from advertising. We have a modified experience for viewers using ad blockers

Wikia is not accessible if you've made further modifications. Remove the custom ad blocker rule(s) and the page will load as expected.